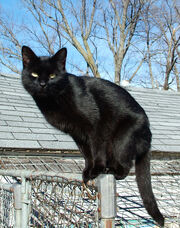 A black cat is a house-cat with black fur. The Bombay, known for its sleek black fur, is an example of a breed of black cat. Most black cats have green eyes. You can easily mistake a tortoiseshell kitten for a black kitten.
The all-black pigmentation is equally prevalent in both male and female cats. In some cultures, black cats are considered good luck, and in others they are considered bad luck. For example, in the United Kingdom, black cats mean good luck; but in the United States many people think they mean bad luck. However many people believe that the cats are all the same and should never be killed during Halloween or be classified as bad.
The wild species example is the black panther. Similar to the black housecat, the black panther is not a species, but a melanistic form of a leopard or jaguar.
Black cats are the hardest cats to find a good home. They are always overlooked, never seen, and often the sweetest cats that have affectionate personalities. Why aren't they adopted all the time? They are like shadows that are always there, always searching for affection. Halloween, black cats are everywhere. What about the superstition? What is there a superstition in the first place? Also, why are they always viewed negatively and also associated with bad witches. There are good witches like the ones in Harry Potter. Black cats should be adopted more often. A lot of them love to snuggle and purr like almost every cat.
Trivia
Black cats are often associated with bad luck in some superstitions.
Breeds
Bombay cat
Chantilly-Tiffany
Maine Coon
Norwegian Forest cat
See More
Main article: Cultural Depictions of Cats