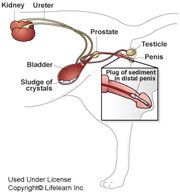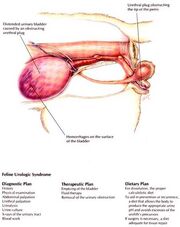 Feline lower urinary tract disease (FLUTD) is a broad term that is used to cover a number of conditions associated with the feline lower urinary tract. It may present as any of a variety of problems such as inflammation of the bladder (cystitis) or urethra, formation of urinary crystals/stones in the bladder (crystalluria/urolithiasis), and partial or total obstruction of the urethra. The latter condition is also known as plugged-penis syndrome and blocked cat syndrome. Complete urethral obstruction is fatal if left untreated.
FLUTD is a common disease in adult cats, affecting from 0.5% to 1% of the population. FLUTD affects cats of both sexes, but tends to be more dangerous in males because they are more susceptible to blockages due to their longer, narrower urethrae. Urinary tract disorders have a high rate of recurrence, and some cats seem to be more susceptible to urinary problems than others.
The older term, Feline urologic syndrome (FUS) was renamed to discourage the perception that the clinical signs seen represent one disease with one cause
Community content is available under
CC-BY-SA
unless otherwise noted.