Jurassic World: Dominion Dominates Fandom Wikis - The Loop
Play Sound
A feral cat is a descendant of a domesticated cat that has returned to the wild. It is distinguished from a stray cat, which is a pet cat that has been lost or abandoned, while feral cats are born in the wild; however, the offspring of a stray cat can be considered feral if born in the wild. [1]
In many parts of the world, feral cats are descendants of domestic cats that were left behind by travelers. Because cats are not native to all parts of the world, feral cats can cause harm to local environments by preying on local species. This is especially true on islands where feral cats have sometimes had a substantial and deleterious effect on the local fauna.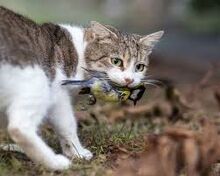 Behavior of "feral" cats
Feral versus stray
Main article: Stray Cats
The term feral is sometimes used to refer to an animal that does not appear friendly when approached by humans, but the term can apply to any domesticated animal without human contact.[1] Hissing and growling are self-defense behaviors, which, over time, may change as the animal (whether "feral" or "stray") begins to trust humans that provide food, water, and care.[2] [3]
Feral cats that are born and living outdoors, without any human contact or care, have been shown to be adoptable and can be tamed by humans. [2][4]
They normally hunt for their prey, and don't like to be taken into human care.
References